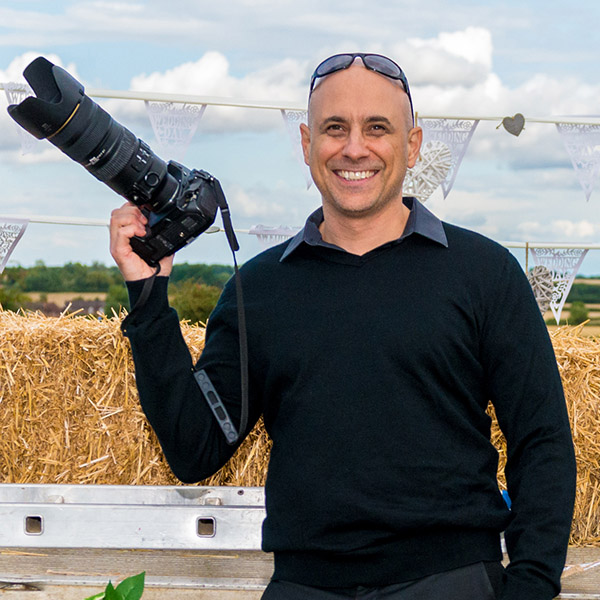 "I've covered hundreds of weddings all over Hertfordshire, Bedfordshire & Buckinghamshire and often travelled to the other side of the country and even overseas."
"Martin is The Pep Guardiola of photography"
-Jonny Murray
PHOTOGRAPHY BACKGROUND
I've been in the photography business for over fifteen years. During this time I have worked on all kinds of projects on various scales from weddings to photographing ad campaigns for big pharmaceutical companies. I've covered hundreds of weddings all over Hertfordshire, Bedfordshire & Buckinghamshire and often travelled to the other side of the country and even overseas.

Of all the work I undertake, weddings are the most special. I have found over the years, that the relationship that you build when you deliver something as important to people as their wedding memories, is one of the most fulfilling aspects of a job that I can imagine. The feedback and reviews over the years, has taught me how much my service means to people.
Photography is accessible to all and there are countless people with cameras competing for your wedding business. Experience has shown me that many of these weekend warriors often fall short and sadly the results reflect that. I have seen so many 'pro' images that I've been asked to fix over the years as they are poorly exposed, with feet missing or junk in the background.
WORKING PRACTICE
When you hire me you will instantly gain a sense of trust, I deliver amazing photography, week in, week out with consistent results in all conditions. Unlike other styles of photography, weddings are taken fast in a small window of time, you have to know when to step up and organise, and when to be low key and subtle, fading into the background.
I work firstly with the bride and bridal party to put them at ease before going to the church or venue. By the time the big shoots come around, I have her trust and the trust of all her family. When it comes to the group shots I step up and with a genuine charm that you can't be taught. I organise the groups carefully and efficiently with all the guests feelings taken into account so that they feel served.

YOUR WEDDING
I always shoot a mixture of posed groups and natural reportage photography. Natural images are very important, but reportage alone, rarely works, you may have a few pretty shots, but it will not cover your true wedding experience.
I arrive with a plan as I always visit your locations on the week of the weddings, all of the registrars, priests and vicars I have worked with receive me warmly and trust that I will never interfere with the service. I am often told that I am one of the good guys, and am used to paying attention to detail and spotting if ties and buttonholes aren't sitting right. Brides and guests have often said that they thought that I was a guest, not a hired hand. I strive to be someone that adds to your day and helps bring energy and support.
MY AIM
My true aim is to put together a collection of images that really represents your day, not just an art book that looks like someone else's wedding with you acting out the pictures. I use my university background in design to personally design all my albums in-house, nothing gets sent overseas to have strangers design your personal book.

I am proud to say that so many of my brides and grooms stay in touch, we have a long-term rapport because we experienced their special day together. Please take the time to look at my testimonial page to read what my past clients have said about their experience, to book with confidence.

I'm based in Ampthill, Bedford, give me a call to arrange a meeting, we can meet at my office or I can come to your home, whatever suits you.

Martin Bou Mansour